Reducing Implicit Bias in Healthcare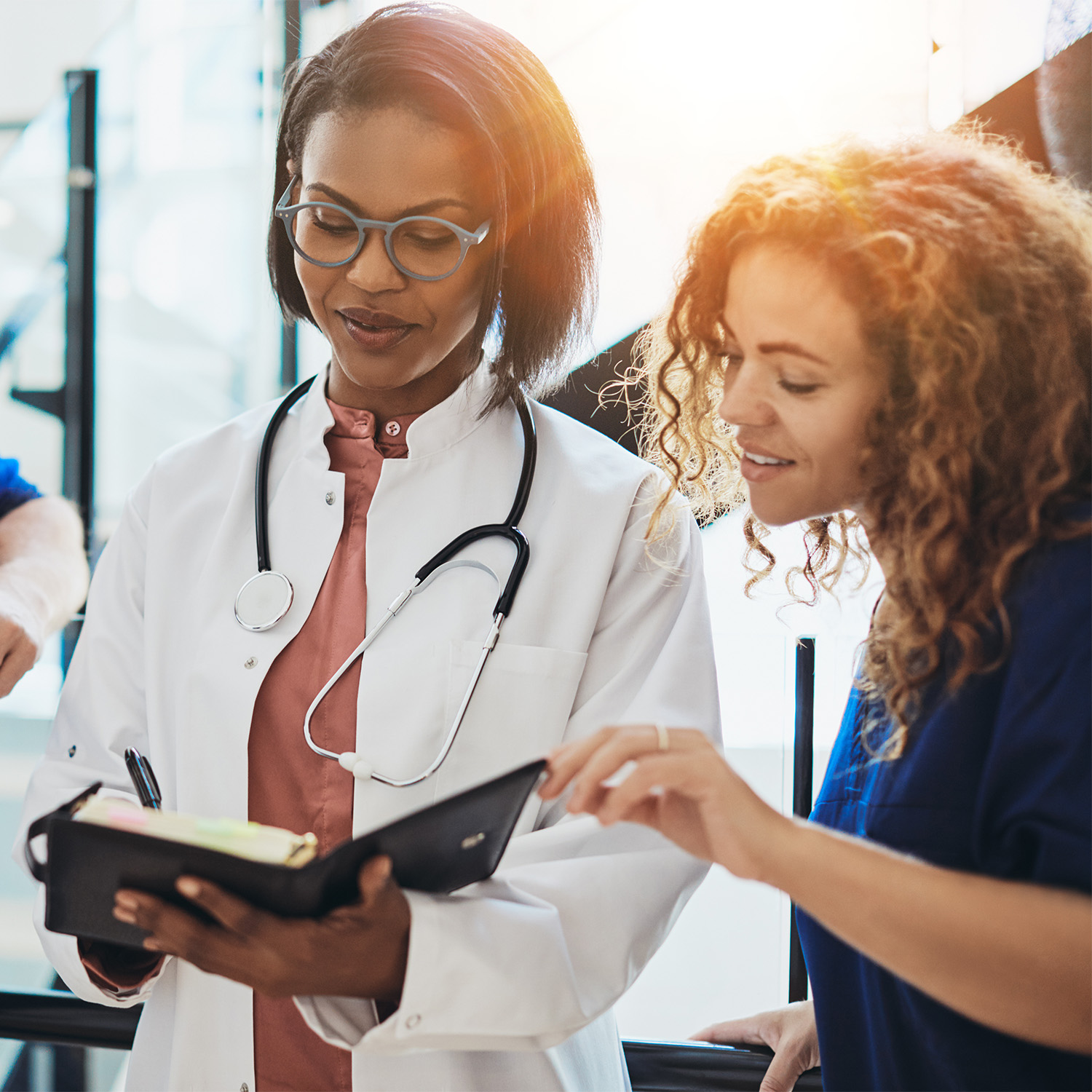 Equity
Improve Patient Treatment

Diversity
Enhance Anti-Racism Strategies

Inclusion
Support Workplace Education
Did you know that according to an NCHS data brief in 2015 (No. 218), black communities and other racialized groups are at a

greater risk

of early mortality and chronic health issues compared to white patients, due to structural racism in our healthcare systems.
How does the Implicit Bias Test help healthcare providers?
Everyone has implicit biases, and the effects of these biases can vary, especially within a clinical setting. Often the effects are subtle, such as not listening to someone attentively, dismissing their point of view or marginalizing their opinion. On the extreme end of the spectrum, these biases may impair an individual's ability to treat a person in a fair or impartial manner. Research has shown that implicit biases also can have an impact on our treatment recommendations.
What is offered in our package 'Reducing Implicit Bias in Healthcare'?


A workshop for healthcare leaders to learn about implicit biases and how to mitigate them, as well as how to foster a bias-free environment.



A one-month rollout package delivering four separate online workshops for nurses and doctors to attend as a "lunch and learn" during working hours. Workshop privilege is also offered for healthcare providers to attend virtual learning sessions from home.


Exclusive Implicitly© (Implicit Bias Test) access through a licence. This is a short online test made accessible to all hospital staff that allows them to learn about their individual biases. They will also receive two separate PDF packages that define biases and teach them how to mitigate their biases.



Participants also receive an electronic document detailing bias in a clinical environment, triggers for bias and a guide to reduce bias.
How will this package help your healthcare setting?

It will support organizational focus and prioritization of anti-black racism/Equity, Diversity and Inclusion (EDI) training.

It will help build personal and professional EDI capacity for healthcare providers.

It will help educate healthcare providers on the impacts of implicit bias and how these affect patient treatment.

It will improve your workplace environment for staff.
Every individual that participates in the Implicit Bias Test through TNT will receive two customized packages emailed to them directly and privately. These packages further a person's understand regarding their personal implicit bias's and also receive information on the top research-led tips to mitigate bias.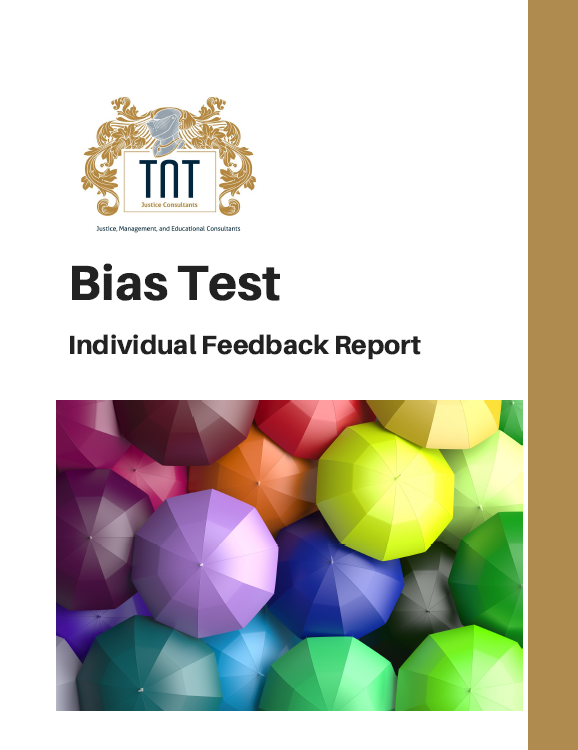 The first package a test-taker receives is an individualized feedback report. This report (which is private) contains the bias scores they received during testing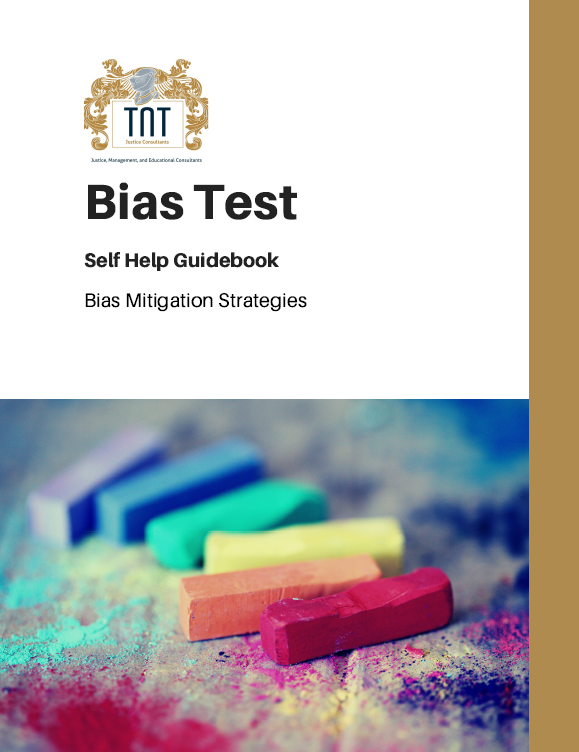 The second package a test-taker receives is a self-reflection guidebook. This document provides support, guidance and shares the top research-led tips a person can take to reduce bias
How to meet the demands of a busy healthcare schedule
Our expansive and organization-centred 'Reducing Implicit Bias in Healthcare' package is designed so that our diversity experts have the flexibility to fit bias-reduction training and education around the working day of healthcare staff so as to avoid disrupting the difficult and busy daily schedules of healthcare providers.
1.
First we assist your hospital by disseminating the Implicit Bias Test cover letter, thus allowing healthcare staff to access our Implicit Bias Test so that they can learn about their individual biases.
2.
Next we conduct a two-hour workshop with your leadership to educate your management about the importance of bias training and how to foster a bias-free workplace.
3.
We then schedule four separate one-hour online sessions each week, thus allowing all healthcare staff access to the online workshop.
4.
Lastly, we aggregate the data of all healthcare professionals in your workplace and provide a final summary report to your organization as part of your Equity, Diversity and Inclusion strategy.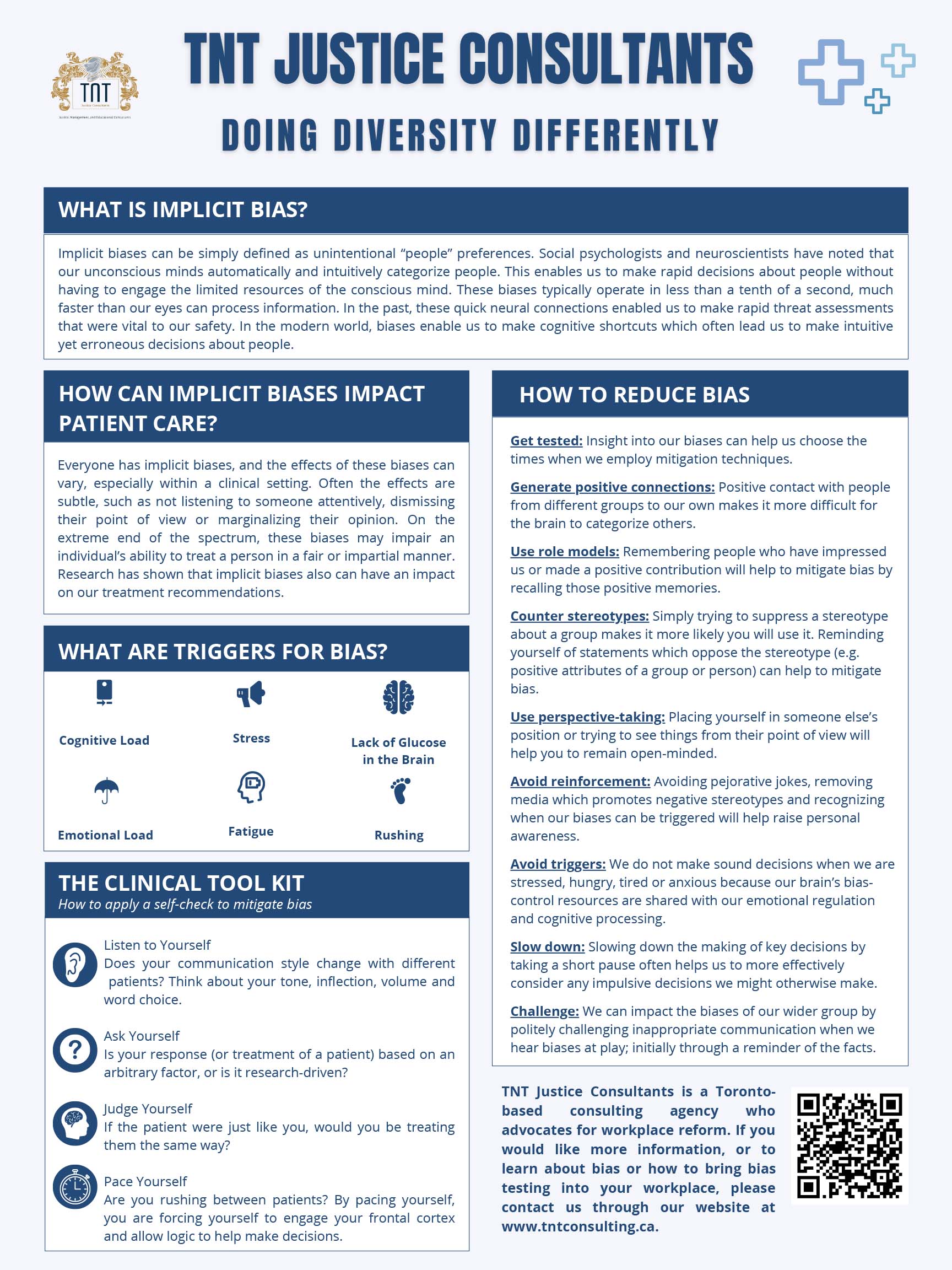 Click here for a free educational poster defining implicit bias in clinical care.
Contact us for a
free quote
today.
Error: Contact form not found.